1985 - Success at Spa 24 hour race, again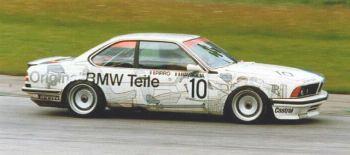 The trio of Roberto Ravaglia (Italy), Gerhard Berger (Austria) and Marc Surer (Switzerland) was able to repeat the 635 CSi success from 1983 at the Spa-Francorchamps 24 hour race.
After 500 laps with an average speed of 89.807 mph they scored victory.
4 laps behind where the seconds 635 CSi driven by Quester/Cecotto/Destreich.


Third place in german DPM series
Volker Strycek, the overall winner of the 1984 DPM series, was not able to repeat the success this year, by the end of the year he was only 9th.
The only race this year where a BMW 635 CSi finnished first was at Zolder, driver was Harald Grohs.
The overall winner was Per Stureson from Sweden in his Volvo 240 Turbo. This was the beginning of some very successful race seasons for Volvo.

Final standings in DPM 1985
| | | | |
| --- | --- | --- | --- |
| No | Driver | Car | Points |
| 1 | Per Stureson | Volvo 240 Turbo | 117.5 |
| 2 | Olaf Manthey | Rover Vitesse V8 | 100.0 |
| 3 | Harald Grohs | BMW 635 CSi | 96.0 |
| 4 | Roland Asch | Ford Mustang | 94.0 |
| 5 | Peter Oberndorfer | Alfa Romeo GTV6 | 90.0 |
| 6 | Heinz-Friedrich Pfeil | Volvo 240 Turbo | 88.0 |
| 7 | Per-Gunnar Andersson | Volvo 240 Turbo | 86.0 |
| 8 | Peter John | Chevrolet Camaro | 83.5 |
| 9 | Volker Strycek | BMW 635 CSi | 80.0 |
| 10 | Wilfried Vogt | BMW 323i | 79.0 |