1985 - Catalytic version of 635 CSi
This year the catalytic version of 635 CSi become available. It produced 185 bhp at 5400 rpm and a torque of 214 lb.ft at 4000 rpm. This was good news for countries like US and Japan where the 218 bhp engine did not pass the emission regulations, and also a big improvement from the US version of the 633 CSi. Even though the horsepower rating where about the same as for 628 CSi and US 633 CSi, the 635 CSi with catalyst had more torque and was more elastic to drive.

M635 CSi

M635 CSi continued with the same specification as from the previous year.
| | |
| --- | --- |
| | Good news for countries that still drive on the wrong side of the road (like UK) was that the M635 CSi was now available in right hand drive (RHD). |
635 CSi become a true 3.4 litre model (in Sweden)
Noticeable is that up to, but not including, this year some countries, including Sweden, had (re-)labeled the 3.2 litre 633 CSi and sold them as 635 CSi's !  These models where equipped with options that where standard equipment on the original 635 CSi, except for the engine. So watch out if you intend to buy one of these early (1978-1984) 635 CSi models it might be a 635 CSi with a 633 engine.

Further noticable, and maybe unique for Sweden, was that even though this was the first year the 635 CSi become a true 3.4 litre model, it did not get the original spec. 3.4 litre 218bhp engine !  Instead it got the same engine as the 735i had, which means a power output of 204 bhp at 5500 rpm with a torque of 229 lb.ft at 4000 rpm.
This may sound strange, since the catalyst version was available, but could be explained with the fact that it took time to certify the catalyst engine and in the mean time the engine from 735i was clearly a better option than the 3.2 litre engine from 633 CSi. It would be interesting to know if other countries did the same thing, so if you know please


German engine specification
The German engine specification for both 635 CSi and 628 CSi remained the same as previous year.

New option available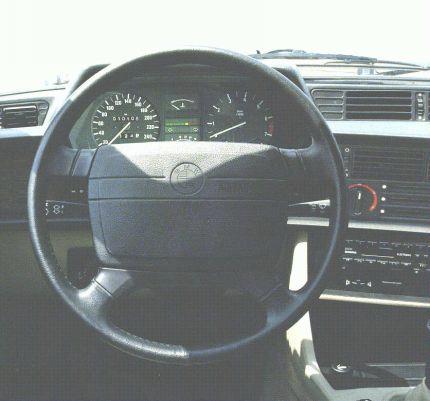 Supplemental Restraint System (SRS) with driver's side airbag showed up for the first time in the second edition (2/85) sales catalogues, i.e. available in late 1985 models.

Production numbers for 1985
Model
Units
Total for model
Total all models
628 CSi
304
593
9626
628 CSi A
160
628 CSi RHD
16
628 CSi A RHD
113
635 CSi
1061
2585
635 CSi A
892
635 CSi RHD
66
635 CSi A RHD
566
635 CSi Cat
255
458
635 CSi A Cat
203
635 CSi USA
1457
3725
635 CSi A USA
2268
635 CSi A Japan
502
502
M635 CSi
1477
1763
M635 CSi RHD
286