1983 - 635 CSi back in victory lane again
By the end of 1983 the team of Quester/Rossi took the European Championship after an outstanding season.

Alpina power
The new 3430cc engine developed by Alpina was bored to 92.6mm but used the standard stroke of 86mm. With a compression ratio of 11:1, crankshaft duration of 324°, 46mm intake and 38mm exhaust valves and a reprogrammed Motronic the engine produced 285bhp at 6000rpm. The new Alpina engine was available from the beginning of 1983 season.

Total success at Monza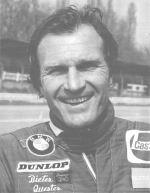 The opening round at the Italian Monza was a total success for the new 635 CSi. Dieter Quester (left) with co-driver Carlo Rossi won and the 635 CSi took 8 of the first 10 places !

Double win at Spa-Franchorchamps
With an average speed of 86.293 mph the trio of Thierry Tassin (Belgium), Hans Heyer (Germany) and Armin Hahne (Germany) won the 24 hour race at Spa-Franchorchamps in a 635 CSi.
In second place was another 635 CSi with Quester/Winkelhock/Rossi as drivers. Third place, and 12 laps behind, went to Lovet/Allam in a Rover Vitesse.

6 first places at Nurburgring !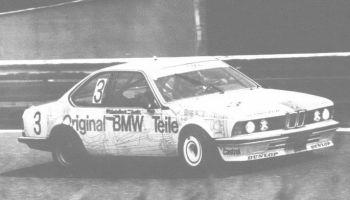 At Nurburgring 6 hour race the 635 CSi took the 6 first places !
This picture shows the winning car driven by Manfred Winkelhock and Dieter Quester.
BMW´s strongest contestant this season was Jaguar and prior to the final round both had scored 5 victories each.

The picture on the left shows a 635 CSi driven by Umberto Grano and Helmut Kelleners chasing a 5.3 litre Jaguar V12 XJ-S at Vallelunga (Italy) 1983.

Hartge Motorsport with driver James Weaver and (Formula 2 champion) Jonathan Palmer competed with this 635 CSi during the 1983 season.

The picture is from Silverstone where they scored second place.

British Championship at Donington 1983.

Hans Stuck in the number 20 635 CSi leads Steven Soper in the Rover V8.

Hey, thought you said this was a luxury coupe!

Hans Stuck in a 1983 Group A 635 CSi.