1977 - Model range unchanged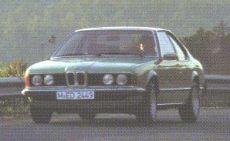 Model range was unchanged this year. Both models, 630 CS and 633 CSi, where basicly the same as during the introduction the previous year.
There where no technical nor external changes on the 1977 models, so the pages covering 1976 could be used as a reference.
Quality improvements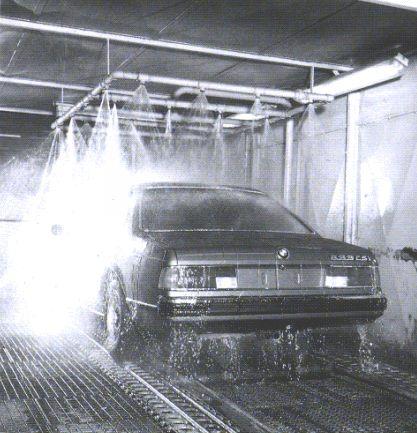 Improvements where made in the assembly line due to some of the early models where found to have problems with water leaks and body trim fitment. This lead to an improved high pressure water test that still today is part of the build and test process.
This picture is showing a 1977 633 CSi in the shower, a high pressure shower. This is one in a series of test to see if there is any leaks in the body.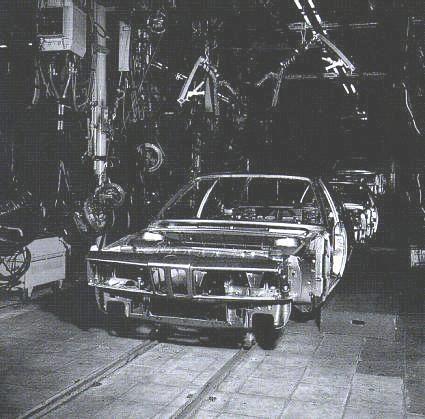 Inside the Karmann plant
The production line at the Karman plant where the 6 series body shells where manufactured.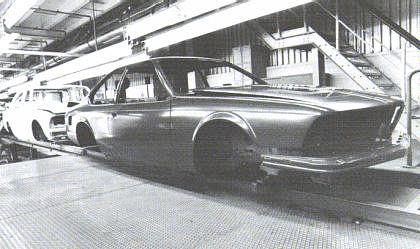 Inside the Dingolfing plant
A E24 6 series body shell from Karmann at the starting point inside the Dingolfing plant, ready to get dressed for success.
 Karmann constructed the 6 series coupe, as well as the earlier BMW coupes. In august 1977 this changed when only the steel body shell where made by Karmann and then shipped to BMW's plant in Dingolfing.
This was another result of BMW being concerned about the quality and one step to bring most of the assembly in-house.
| | |
| --- | --- |
| | 1977 instruments and steering wheel. |
| | Driver side rear view mirror where standard but optional on the passenger side. |
| | Rear seat head restraint where optional. |
| | First aid kit located behind rear seat head restraint. |
| | Standard on all models where this nice toolbox located under the rear luggage boot. |
| | 1977 front bumper. |
| | 1977 rear bumper. |
Production numbers for 1977
Model
Units
Total for model
Total for all models
630 CS
666
1134
5749  
630 CS A
468
630 CSi USA
714
1384
630 CSi A USA
670
633 CSi
1862
3231
633 CSi A
803
633 CSi RHD
157
633 CSi A RHD
409