Racing with BMW E24 6-series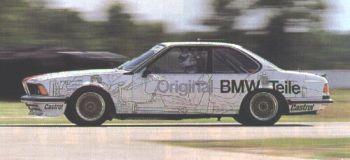 The following pages is sorted by race season and contain results and photos of BMW E24 6 series cars and drivers in action on race tracks in Europe.

Highlights
1980 - European title to BMW
1981 - First title with a 635 CSi
1982 - BMW wins the title, but not with a 635
1983 - 635 CSi back in victory lane again
1984 - New racing series in Germany
1985 - Success at Spa 24 hour race, again
1986 - Middle year for BMW
1987 - Start of a new era for BMW

Wanted
I am interested in all kind of information about 6 series cars and drivers who where (or still is) competing on race tracks all over the world. If you have information, photos etc. or maybe know some other person that might have it, please send me a note.