1979 - Introduction of 628 CSi
This was the second year in a row for BMW to introduce a new model. In July 1979 a new low-end model called 628 CSi was presented to the public. Since it was a low-end model it had less standard equipment than the 633 and 635 models, but it shared the same body, chassi and interior.
The engine (2788cc) was taken from the 528i and produced 184bhp. This engine was capable of giving the 628 CSi a top speed of 130mph.

630 CS R.I.P.
The introduction of the 628 CSi also meant that the carburated 630 CS was withdrawn from the model range, so from now on all 6 series models where fuel injected.
The total production number for the 630 CS up to the end of production in July 1979 was 3972, this last year only 249 where made.

New engine electronics in 633 CSi
The 3210cc engine in the 633 CSi got the Digital Motor Electronics (DME) that later was to be used in all 6 series models.
DME - Digital Motor Electronics

DME control unit

High voltage distributor

Ignition coil

Temperature time switch

Coolant temperature sensor

Speed sensor (reference mark sensor)

TDC position transmitter

Spark plug

Intake air filter

Idle speed control valve

Battery

Flywheel

Fuel tank

Electronic fuelpump

Fuel filter

Fuel pressure regulator

Air valve

Cold start valve

Air flow meter

Fuel injector

Ignition key

New option - ABS brakes
New, even if it was an option, was a microcomputer controlled Anti-Blockier-System (ABS) for the breaks.

Interior changes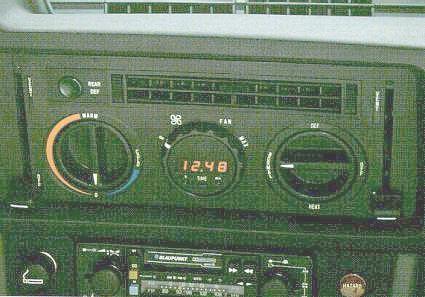 In the cockpit there was only minor changes, for example a LED clock instead of the analogue clock that had been used earlier.

Production numbers for 1979
Model
Units
Total for model
Total all models
628 CSi
202
286
6729
628 CSi A
84
630 CS
166
249
630 CS A
83
633 CSi
277
1163
633 CSi A
452
633 CSi A RHD
434
633 CSi USA
487
975
633 CSi A USA
488
633 CSi A Japan
301
301
635 CSi
3030
3755
635 CSi A
319
635 CSi RHD
267
635 CSi A RHD
139